enfusionize™ is seeking a motivated individual with sales experience who wants to be part of a fast-growing digital marketing company. We are looking for someone who is comfortable working independently and as part of a team as an Independent Sales Representative. If you feel you are a good fit for this position, hover over the Click Here to join the team below and let's talk.
enfusionize™ is a leading website development company located in Sedona, Arizona. We specialize in Digital Marketing for Conscious entrepreneurs and work one-on-one with business owners to bring them a professional and effective online presence. As a Sales Representative (relationship building enrollment specialist), you will be offering our suite of Intelligent Web-related business services and custom designed digital marketing development packages. You will earn a share of revenue from each account you bring in, along with ongoing monthly commission on all on-going account sales.
Business cards, marketing and promotional materials provided
Strong company history, reputation, and portfolio along with name recognition locally
A self-motivated, innovative, service-oriented sales professional will consult with small to medium sized business owners about their online business and digital marketing requirements. Qualified applicants will be able to handle all aspects of the sales process, including identifying target clients (ideal audience), analyzing a company's website requirements, showcasing enfusionize™ Web Design's portfolio and explaining website features, closing the sale, and maintaining client relationships.

Responsibilities include:
Identifying prospective clients and working to find leads given specific target markets

Generating new leads through warm leads (FB ads, LI, and others) some cold calling, networking, and referrals that will be sent via round robin thru our management tools

Intelligent Web and digital marketing sales (also for HIGH-ticket offers)

Sales Funnel/Website design portfolio presentation

Following up with prospective customers and offering new website features or services to current clientele with our in-house scripting proven to convert

Utilize the enfusionize™ Project and lead Management software to manage closed sales and communicate project necessities
Qualifications & Experience:
A strong work ethic: self-disciplined and self-motivated

Works well with others in a collaborative environment

Ability to work effectively with little or no supervision required

Outgoing personality with strong interpersonal skills

Excellent written and verbal communication skills

Organized, detail-oriented, and excellent time-management skills

Strong computer skills, internet savvy, and ability to learn new skills with training

2 years experience selling digital marketing, advertisement, print, or services preferred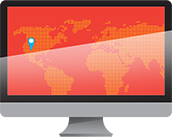 Compensation:
  First 6 months commission only income with a scalable commission rate based on number of sales

  Base salary plus commission potential after only 6 months, based on performance review

  Commission paid every two weeks based on actual payments received from clients (can track all commissions via your own partner portal)

  Ongoing monthly commission on ongoing Intelligent Web-related sales for as long as you hold a working business relationship with    enfusionize™