Learn how to revolutionize your business by streamlining, automating, and scaling what matters most
What's in this exclusive Training?
You learn how to utilize laser-sharp messaging to convert your intended audiences, create workflow automation with what matters most in your business, integrating everything in REAL time, and finally, move swiftly to expand your offers building a living legacy that elevates your current position.
Once you do, you can say good-bye to confusion and not knowing what to do next…your blueprint and M.A.P.P.™ for success will be in place.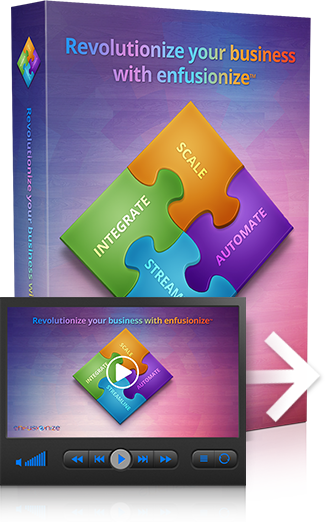 By entering your information, you'll receive more updates from enfusionize™. You can unsubscribe at any time.
With this training, you will:
Hone your message & streamline your offerings with the right strategies at the right time while properly targeting & converting your market.
Automate with our M.A.P.P.ing™ process, giving you a dynamic blueprint designed to activate, amplify, and accelerate your success online.
Go vertical and scale your business with 5 perspective shifting strategies designed to elevate your status, go BIG without the overwhelm, and shift to the fast track.
Integrate the pieces to create a seamless business platform that aligns your message with your market, automates your workflow, and takes your business to the next level.

enfusionize™ is a one of a kind company/organization that is here for the brilliant hearts inspired to make a difference in the world.
Inriel has created an entire team and a streamlined system that will take one from the initial vision of your dream into the practical application of the sharing and marketing your message. If you have a dream and can vision it. enfusionize™ is your team! Not only have I felt completely seen and heard, but supported to creating a website and a brand that shares my message and is giving me a platform on which to shine!
Mahalo enfusionize™!!! And big thanks to your genius that has taken the time to create this seedbed for others dreams to bloom into reality!
Love,
Hailey Dawn Armstrong
Affiliations and Partnerships





Copyright © 2019 enfusionize™ All rights reserved