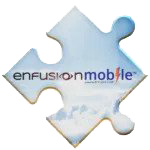 enfusionMOBILE™ is our service that takes your online presence and makes it cleanly accessible on mobile devices—IOS, android, tablets, and wearables. That goes for Relationship Pathways, the shopping cart experience, and mobile marketing—in short, any digital information and/or transaction.
We build sites and platforms that are responsive, and our services include:
Relationship Pathway on Mobile Devices

Software Development

Mobile Platform Build-Outs

Mobile Marketing
By the way, we find that clients sometimes forget to request that their web presence be responsive. We won't let that happen. Engage with us and we'll assist you to make sure that your online presence looks as sleek on a smartphone as it does on a computer screen.
To learn more or to get a quote, contact us directly