1. What is strategic marketing intelligence?
The ability to see further down the road, gauge exactly where hidden opportunities are and core constraints lie, and be able to maneuver your business according to the massive amounts of data it creates and interoperates with, is a broad definition of Strategic Marketing Intelligence™. With this standard in play in your day-to-day operations, it is as though you have the prowess of an admiral on every deck and a thousand sailors to navigate your vessel to its destination. Strategic Intelligence™ is the congruent behavior and decisions that come from knowing what information to look at/when to apply it and how to recalibrate when situations arise, as they often do. A great GPS system works this way. This specific element of your business will define how you are able to move with the currents and the vagaries of the marketplace. With the confidence that comes with good intel, information flow, and keen awareness, Strategic Intelligence™ also affords the ability to go out on a limb, knowing you have the tactical ability to handle any situation.
2. What is conscious business?
To be in a conscious business is to be in steady relationships based on respect and reciprocity felt equally by both parties. To be able to monitor yourself, in your personal life and professional life behind the scenes 100% of the time, is a state of awareness, not a label. Conscious business implies that you are fully present regarding the way you run your operations, how you run the financials of your business, the decisions you make, the clients you bring on board, and the level of integrity you have in your dealings with them. You are doing things consciously and in light-hearted integrity. From the cutting-edge collaborative way you run your company, to your guiding vision of greater good, to your established values of authenticity, integrity, and transparency, your conscious foundation affects how you will be perceived and who will choose to do business with you. One of the most important goals of a conscious business is to create opportunities for businesses that honor, respect, and support all of humanity.
3. How important is the role of a highly tuned/high-converting website to my business?
Having a website for your business is an important investment. Your website is a reflection of your personality and your business ethics for your ideal clients. It serves as a key ambassador for your great work. As such, you want to make a good first impression with a clean, interesting, well-designed website that is both attractive and content rich. Visitors must be able to find what they are looking for easily, and if they navigate to inner pages, they must find it easy to return to the home page and/or move around the site. Attracting buyer traffic and supporting the closing of sales is the primary job of most—but not all—websites because the site is your strategic marketing tool. Yet, as per the US Census Bureau, there are more than 75% of businesses currently operating without a website.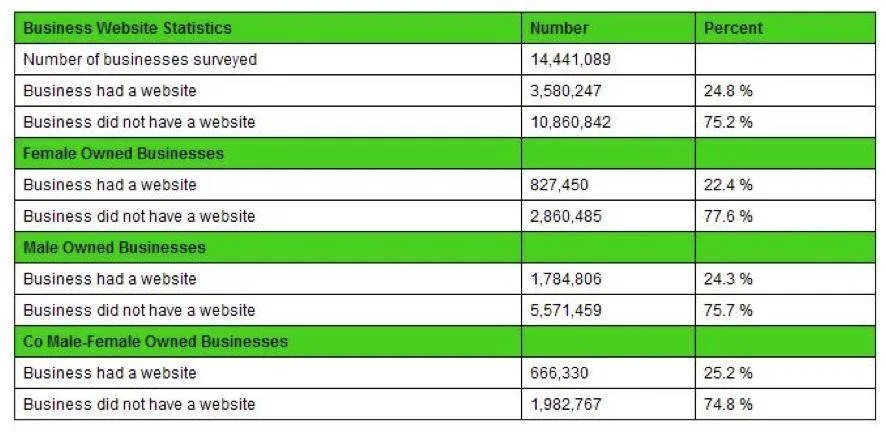 If you don't have a website, are you missing out? According to a study by HubSpot, 92% of the people who searched online for a product or service bought the same product or service locally, at least once. This goes to show the significance of having a website for advertising your business and boosting sales. According to e-Commerce specialist Chelsea Kilzer, one third (33%) of Internet users are shopping for products and services online. Shoppers are more frequently heading to online shops for convenience and to accommodate their busy schedules. When you need a new pair of earrings and can't find time to browse in the store because it's too far away from home, with a few clicks and a credit card number, you can have it delivered to your doorstep! And often with free shipping! Planned investment in a website could enable you to transform the way you do business, and a good website could potentially be your automated marketing partner, a 28/7™ relationship builder and sales representative, without you shedding a single tear or drop of sweat. The avenues for profits and returns are endless. There are numerous technological features and innovative techniques available to enhance the ROI from your website. It's only a matter of finding the right team to help you sail through the nitty-gritty of integrating a website as a component of your Business Marketing Intelligence™. When it's done correctly, it can make you lots of money.
4. Why is everyone talking about Web 3.0?
According to McKinsey Research, the top 3 reasons for companies to adopt Web 3.0 technologies are:
a) Managing Knowledge (83%),
b) Fostering Collaboration (78%), and
c) Improving Company Culture (74%).
Why is everyone talking about it? Because Web 3.0 is a 21st-century tool to improve the quality of communication and exchange of information over the Internet and everyone wants to know how they can use it without feeling overwhelmed.
5. What is branding?
Your Brand is the unique identity of your company that establishes authority, authenticity, and sets it apart from others in the same market niche. A Brand is composed of logos, portraits, typefaces, colors, and animation that together set the tone of your voice and capture the imagination of your ideal clients. Beware though. Brand is not just about visual representation—it's your business's personality and the principles by which it operates. Having a firm grasp on these principles allows you to create a compelling, cohesive, aligned, and synergistic presence for your business and every element it contains.
Why is branding beyond my logo very important?
Firstly, despite popular beliefs, a logo is not a company's Brand. A logo is an important part of expressing a Brand, but essentially, its basic function is to serve as a symbol or a visual identifier for a company in the marketplace. A Brand, on the other hand, is your business personality and the principles it actually lives by—your approach to doing business and the value you bring into the lives of your clients. While your Desired Brand Position may be, for example, that of a well-organized, integrated investment firm, if the actual services, statements, website, and other communications aren't built around a well-thought-out approach to those values, you send out the exact opposite message of your intended Brand. You may portray your company to be focused on your clients' needs, and your goal may be to help simplify their lives, but that may not be reflected in the language you use on a daily basis with your clients. A well-developed Brand bridges the gap between the expectations you have set for your clients through your Brand and the reality of doing business with them
6. What is the co-relation between my niche and my brand?
Brand design and niche marketing are related only through the concept that if you are marketing to a certain demographic or niche, then your Brand should speak to that niche, motivate them, and be relevant to them. What is your Brand aiming to do for them? The correlation here will give your niche a good reason to make a connection and perhaps generate a relationship with your Brand.
7. What should my business website look like?
Your business website is not just about the look; it's more about the attitude and the feelings it incites in your potential ideal clients. It should be engaging, professional, and have an emotional connection with your visitors. Ideally, an authentic business website is designed and tailored to what your actual business is about and the way you want to service your target audience.
8. Why is my website not converting?
There are a multitude of factors that play an important role in website conversion including navigation, site structure, design and site dynamics and functionality, ease of use, browser compatibility, and content. It's not just about having a good-looking website. People tend to measure visitors to their website and visitors who are actually converting to clients on their site with the same casual barometer. That's where the problem starts. The most important aspect of your site, if it is being used to generate leads and sales, is the incentive behind the Call-To-Action (CTA). The CTA is an instruction for a client to do something on your website, for example, call you, send you an email, sign up for your newsletter, or simply buy the stuff you are selling. Where you place your CTA is just as important as having one on the website. One of the easiest ways to increase your website conversion rate is to make the process of conversion easy and straightforward. Make sure the important tabs or buttons on your site stand out. The easier you make it for your client to purchase or inquire, the more likely they will be to convert. Make sure your site is compatible with different kinds of browsers. Poor browser compatibility could easily make clients slip through your fingers and put a dent in your sales and revenue. Last but definitely not least, content is the most important component of your website. Think carefully about aligning your key messages with your Brand and information that your niche is most likely interested in getting. Stay to the point but be informative. Be consistent with the fonts, font size, and the line spacing. Add variety and color to your content with visuals like images, videos, and slides to help break the monotony and reduce bounce rates to a significant extent. A good video can really spice up your website and give it personality. Always remember, every visitor to your site is a potential customer, and they are clever and busy people. Make it easy for them! The best way to achieve all this is to have your site tested by professionals. Click here to find out on how we can help you!
9. How do I know if I have a CTA that is effectively working on my website. What is an effective process for getting one?
Ideally, a CTA should always be above the fold. If it is above the fold and you are still having to scroll down to get an answer to a question, then there is a very good likelihood there might be some other issues with your website that could be distracting your customers from the CTA. There are a number of ways to find out, depending on: what the CTA is; number of sign-ups; number of opt-ins for the product or services you are offering; and number of calls you have been receiving. You could of course check the effectiveness of your CTA with a fully automated analytics and metrics tabs on your website. If you don't have that yet, click here to download a free video on how to have an effective CTA.
10. Why is it important to have JV partnerships to attract traffic to my website?
According to marketing specialist Richard Mortimer, one of the most easily overlooked and underestimated tactics in web marketing is attracting traffic through Affiliates and JV Partnerships. Also, you can leverage reciprocal relationships not only to get traffic but to make tons of money. JV Partners are people who are well known to you. Having even one of them on board can significantly boost traffic to your website and increase conversion rates. However, remember that it's not the quantity but the quality of prospects that matter, and it is important that they share your needs and interests in the marketplace.
11. Why is it important to have a marketing-savvy designer?
There are three important components to a business which include: product development, marketing strategy, and design. These three are interconnected in the sense that they are aiming to achieve the same goal, that is, to drive both traffic and conversions. A marketing-savvy designer's orientation to design is very similar to that of a product or service developer. The developer needs to understand the target market really well before he develops a product. Similarly, a marketing-savvy designer's job is to frame the site with the target market in mind. Knowing the attributes of the target market, the designer drafts the look and feel that the client seeks. The marketing aspect involves a designer knowing about conversion optimization, marketing structure, and marketing architecture so he/she can design around the target market and ensure that the design connects with the ideal audience at every conceivable touch point. A marketing-savvy designer is in synergy with everyone at every stage of the project, and that not only assists to maintain the consistency throughout Brand development but also provides the polish of authenticity and the imperative of uniqueness in the marketplace.
12. What is automation marketing?
Automation Marketing is about automating the routine and repeated tasks associated with lead management, lead nurturing, and lead scoring and then creating and maintaining a marketing lead database. Automation software enables marketing departments to measure the workflow process and determine its impact on sales and revenue. By integrating with existing sales force automation systems, it entitles the marketing department to become an authentic partner with sales throughout the lead management process. Click here to find out if your business website is ready for automated solutions to your workflow processes.
13. Who are my competitors and what makes me more unique?
There is no easy answer to this one. However, one thing's for certain: you are your biggest competitor and how you take yourself to the next best level of your business is a decisive factor in your uniqueness. We live in the age of collaborative competition where success is realized once you get over the negative energies of defeat-the-competitor mindset. You must be prepared to excel in your own zone of genius. It's all about staying ahead of the crowd, knowing what to do, and engaging people who know EXACTLY what YOU REQUIRE so that you are able to distinguish yourself in the market with full confidence.
More Questions to ask:
Why must I have a high-converting Sales Funnel? And what does that look like anyhow?
I think I know the elements of a great website. However, how do you determine what makes a good website vs. what makes a GREAT website?
How often am I supposed to look at the analytics on my site?
What information is most important/relevant to be collecting?
What behaviors correlate to customer buying?
How much content is too much content?
How do you decide which information goes where when all of it is important?
How critical is SEO these days?
How does my Brand extend to Social Media? Can't I just post and tweet?
How important is Facebook, Twitter, Instagram, Tumblr, Google+. for Brand Marketing?
Can I launch a campaign if I don't have a new product but just want more business?
Systems Intelligence™: What systems must I have to assist me to integrate?
I just have a WordPress site and Mail Chimp. What else is necessary so I can be a successful online marketer?