Consistency, when it comes to marketing, is about being reliable, trustworthy, recognizable and dependable. When you are consistent with your product, service, its delivery and the user experience, your customers start to develop confidence in and loyalty to your brand.
Consistency is also the art of repeating what works. Repetition, repetition, repetition is often the cry of marketers . . . however, it's good advice only when it yields positive, measurable results related to your bottom line.
Where is consistency most important for conscious business entrepreneurs who have a mission and a message?
We at enfusionize™ have no single important area where consistency matters most because we are a holistic online/digital marketing firm and seek to integrate, integrate, integrate. If you integrate your message with your imagery, your format with your content, your content with your design, your user experience with your mission and message — are you getting the picture? — you will have consistency. Where a lot of entrepreneurs fall short with the consistency piece most frequently occurs when they use different platforms for message delivery.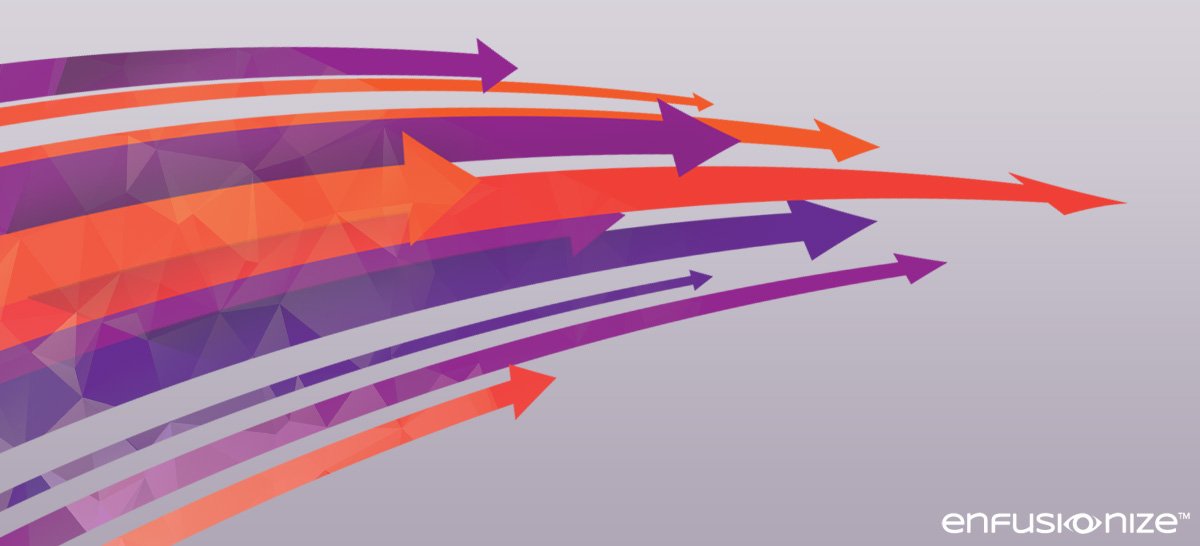 Image consistency:  always using your brand mark, color schemes, font….so your brand is recognized visually.
Messaging: creating an impactful soundbite or two using the same or similar wording; applying tag lines, tone and voice that aligns with your brand; crafting calls to action that match the voice and tone of your brand.
Avoiding "reinventing the wheel" when it comes to graphics, forms, landing pages, sales pages, etc. These key documents are not your opportunity to channel your inner gypsy. Stick to your brand and key, iconic images and get creative with your monikers, layout, and storytelling.
We saw in Part I: Discovery and Part 2: Optimization that these two work synergistically to free the potential for your brand to evolve.
You may recall from the Optimization article that we suggested your business is like a series of wheels that must turn in sync.  Action-reaction-feedback. Action-reaction-feedback. Feedback negative? (oops!) Make a Change-reaction-feedback.
Consistency is the art of getting the same results (or better) by applying specific actions. If your message and storytelling are fun and engaging, and you find that clients are opting in for your eBook, then — terrific. If you haven't already included it in your offer, next time add an upsell right away that has a similar tone, similar promise, and similar value proposition.  
If you have a website and people are familiar with your brand, be sure to use the key elements of your website ( your logo, tagline, any iconography) when you create a sales page for your latest offer. You may be surprised at how many people design their own sales pages that have nothing in common with their website or their brand.  Know that this is disarming to your ideal audience. Consistency in this sense is like being Coca-Cola. You always know from the lettering, or the shape of the bottle, or the red and white palette that you've got a Coke product. Remember when Coke introduced New Coke? The marketplace rejected it as too far off brand, and the company took it off the market. It was too great a departure from the core Coke brand, partly because it was off color.
Just as you can spot from across the room that someone has a beverage from Starbucks (you spot the green mermaid), your brand iconography has to be everywhere you are. This means visible on every channel, at every touchpoint–so that people immediately associate you and your brand's qualities when they see your logo.   
You can find evidence, validation, verification of consistency in the social listening space – how many likes, how many negative comments, content and # of tweets– related to the performance of your offering in the marketplace. If something is inconsistent, your metrics and commentary will give you clues as to what is off.  Read any and all comments you receive from customers and clients. Make sure you take note of any feedback you receive that indicates your message didn't get across, wasn't clear, or there was a delay in response because of lack of recognition. Note any places where you are off-brand or off-target and use the tools from discovery and optimization to regain/redress any inconsistencies you have uncovered — as soon as possible.
Let's take a look at what being consistent can establish for your brand.
A Reputation:  Consistency is a factor in your reputation. Just look at any chain restaurant or any major lifestyle brand.  What keeps people coming back is the consistency in the quality and delivery of products and service.  Starbucks delivers a consistent experience and coffee is always fresh. You can go to any Olive Garden anywhere and get the same meal given in the same style. Visit any Whole Foods Market, Abercrombie & Fitch, American Eagle Outfitters chain store, and you'll see what consistency means — the merchandise, the displays, the store music, the friendly staff.  If your clientele likes your vibe and doesn't want any surprises, know that your consistency is key to loyalty.
Understanding your market assists you to remain consistent and reliable in the eyes of your customers.  And if you fail them, you can be sure that the tale will appear on Facebook or Twitter.  Engage in social listening to look for dissatisfied customers and address their issues directly — and publicly.
Popularity. Your brand likely has a mission statement or perhaps you have a philosophy about business that supports your products and services. Adopting a philosophy that you stand behind and has mainstream appeal will assist you to be perceived as consistent. Socially, brands that are perceived this way are shared more often and with more fervor than others. People talk more about these brands and their personal experiences with them. These discussions and sentiments can be measured through social listening.
Relevance: If your brand has traction and you have followers, your brand has relevance. Chances are if you have gotten this far, it's in part because you have been consistent. To remain relevant, be attentive to brand cohesion and consistency and keep your eyes and ears attentive within the social sphere.  
One thing to remember as a business owner or entrepreneur: it is in the social sphere that your relevance is likely to be challenged or develop some cracks. In these cases, consistency likely requires that you pivot to discovery — to unearth those areas where you/your brand may be slightly off-target or off-message. Once you identify the issue, optimize immediately.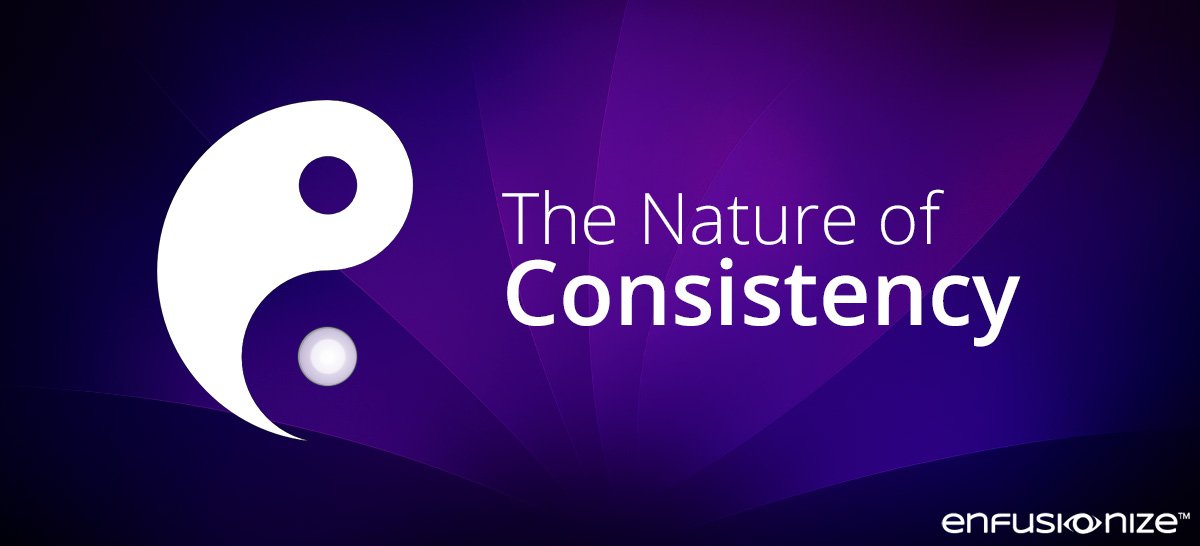 As this process unfolds, you'll start to notice that by working these two phases–discovery and optimization– into your business, consistency will begin to unfold on its own. Just remember, your business is a living, dynamic entity that requires constant attention and nurturing.