According to the Dayton Business Journal, Twitter ranks third for the most-visited Social Media site. Therefore, most of you (if not all of you) should be fairly familiar with this site.
For those of you who don't understand Twitter or how to use it, I'll give you a quick summary. The average Twitter User narrates their life on this site. Here's a screenshot taken from my personal Twitter stream to give you a better understanding of what I mean: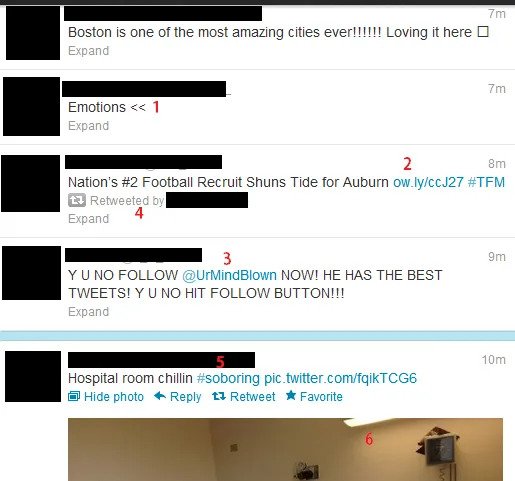 I marked the screenshot with red numbers so I can explain certain things about Twitter.
1. The (<<< and >>>) symbols are used to indicate "greater than" or "less than," just like in math class, except there do not need to be two variables on either side of the symbol. When one of the sides is left blank, try mentally substituting the word "anything" or "everything" to figure out what the User is trying to say. In this post, the author is basically implying that her emotions are very negative at the moment, or something along those lines. I would not encourage using these symbols for anything but a personal Twitter account.
2. If you want to put a link to another webpage, you can share this instantly with your Twitter followers. I suggest that you use this site (https://bitly.com/) to shorten your links. It gives it a clean look and adheres to the 140 character count allowed in a tweet.
3. To tag another Twitter account in a tweet, simply post the @ symbol and begin typing the username. If you follow the individual, a list of options should automatically pop up before you finish typing.
4. You can "retweet" anyone who does not have their settings set to "private." Retweeting is essential for exposure because when someone retweets one of your tweets, it is therefore shared with all of their followers too.
5. Hashtags (#) can also be crucial to up your follower number. #alwaysusethem
6. You can also upload pictures straight onto Twitter. All your uploaded photos show up on the left hand side of your Twitter profile. Even the ones uploaded from Instagram. 😉
Whoo! Well I think I covered the basics! Now for …
What Gen Y Thinks:
What is so interesting about Twitter is the ability to follow celebrities. You know those "Celebs Are Just Like Us" magazine articles? Well, no offense, but just because I see a snapshot of a celebrity walking his dog, doesn't mean I find him any more personable. Twitter finally changed that! What I want you to take away from this is not that you need to be a celebrity to be on Twitter but that you need to be personable.
That means you should:
1. Use professional humor/sarcasm.
2. Utilize the same "voice" on all of your Social Media sites.
3. Reply to your followers if they tweet at you.
4. Ask followers questions/opinions to stimulate conversation.
And you should not:
REMEMBER: If you tag a username anywhere but at the start of the tweet, everybody following you will see that message.
This kind of monotonous tweeting looks so unclean. You don't ever want to overtake anyone's News Feed. Needless to say, I no longer follow this individual.
Take our advice,
Generation Y